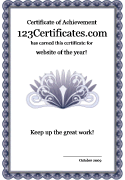 Free certificate templates
from 123 Certificates that you can use to make formal awards, awards for kids, awards for a tournament, school, or business. There are
over 1,250 certificate designs
, including formal templates, school certificates, sports themed choices, cute awards, holiday borders and more
. Choose a category below and then click on any template preview to get started.
Fully customize the text, layout, add a logo or picture to the template and print for free.
Reward somebody today!

You are free to use any resource from this site as an end user. You may not redistribute, copy, modify, transfer, transmit, repackage, charge for or sell any of the materials from this site. 123Certificates.com reserves the right to terminate or make changes to this agreement for any reason and without notice.
Copyright © 2006 - 2019 123 Certificates | restrictions | privacy | Mark Cox | about